2 minutes reading time
(488 words)
6 Exterior Painting Myths You Shouldn't Believe
When it comes to exterior painting, there are several conflicting tips and tricks that can make exterior painting projects seem incredibly daunting. In order to achieve the best exterior painting outcome for your home, it is important to know which tips are fact and which are fiction. Keep reading to discover the truth behind these six exterior painting myths!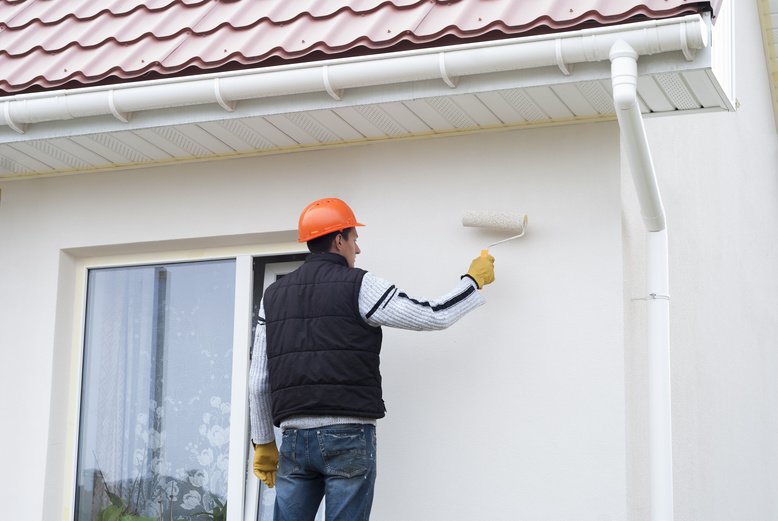 Myth #1: You Don't Need to Paint Before Selling
Are you getting ready to sell your home or business? You may have heard the myth that painting the exterior isn't really necessary. Don't believe it! A fresh coat of paint is great for curb appeal. It tells potential buyers that your home is properly maintained and can even help increase the value of your home.
Myth #2: Prepping to Paint is a Waste of Time
Actually, the secret behind a good paint job is a great prep job. That includes addressing issues like wood rot that can not only quickly ruin a fresh paint job, but actually compromise the structural integrity of your home or business.
Myth #3: Power Washing is Overrated
Power washing is an important step in the exterior painting process. Even if your home doesn't look dirty, it has a fine film of dirt everywhere and some less noticeable areas are bound to have even more dirt or mildew.
That dirt or mildew can cause problems with the paint adhering to the surface, which could lead you having to repaint sooner rather than later.
Myth #4: Exterior Paints are All the Same
At Major Painting, we recommend getting the right paint for each part of your home's exterior. Walls, windows, trim, doors, porch floors, and decks all receive different amounts of wear and tear. Choose the right paint for each in order to enjoy the best, most long-lasting results.
Pro Tip: Always purchase high-quality paint - the results will be worth every penny of the extra cost.
Myth #5: Never Paint if it is Cold Outside
That may have been true decades ago, but paint technology has advanced tremendously since this myth was true. There are now cold-weather acrylic latex paints available that can be applied in temperatures as low as 35° F.
Myth #6: Hiring Professionals is Too Expensive
The cost of painting supplies, ladders, drop cloths, renting a power washer, etc. can start to add up. Accumulating everything needed to paint your home's exterior properly is a big investment in bulky equipment you'll either need to rent or store afterward. Not only that, but painting the exterior of a home or business is a massive undertaking that can take a long time to complete properly. Hiring a professional painting contractor to complete your exterior paint project can actually save you money in the long run.
At Major Painting, we can help you complete your exterior paint project in an affordable and efficient manner. To learn more about our exterior painting services, contact us today!