Interior and exterior paint are not interchangeable. Each one is formulated for its specific application. For example, since the pigment in many interior paints isn't suitable for outdoor use, using those paints on an exterior surface would cause the color to fade quickly.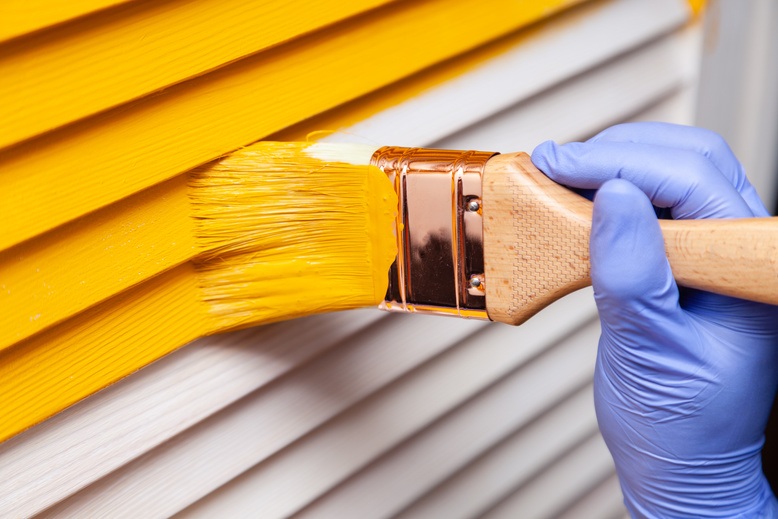 Interior vs. Exterior Paint
Other differences between interior and exterior paint involve more than aesthetics. Additives in exterior paint enable it to withstand exposure to the elements. Interior paint doesn't have those additives. However, interior paint does have binders to resist abrasion.
Several years ago, concerns about the impact of volatile organic compounds (VOCs) on indoor air quality brought low VOC interior paint to the marketplace. These days there are many low VOC and even no VOC interior paint options. While paint manufacturers have begun to offer low VOC exterior paint, the VOC levels of most exterior paints are another reason such paints aren't meant for indoor use.
Interior Painting vs. Exterior Painting
Choosing the right product isn't the only thing that makes interior painting different from exterior painting. Each process is different because different tools and application methods are necessary.
Outdoors, the surface preparation process may include pressure washing the building, removing rust, and applying a rust-inhibitive primer. Before a professional exterior painter moves to the painting stage, he ensures the surface is dry and the weather conditions are appropriate.
Of course, gentler cleaning methods are appropriate for interior surfaces. The interior painter chooses the right primer for the wall's condition and the paint he's going to use. It's also important to select the right tools. For example, interior painting may require a soft brush on trim, but a stiff one to cut walls.
Expert Interior and Exterior Painters
At Major Painting, we specialize in interior and exterior painting for commercial and residential buildings. We have been providing excellent painting solutions and incredible customer service to our community for over 30 years. Our trained professionals have the knowledge of best practices to produce a high-quality result indoors and out. To learn more about our painting services or to request an estimate, contact us today!