The Importance of Power Washing Exterior Surfaces
Whether you are a "Do-it-Yourself-er" or a large commercial painting contractor, power washing has become an essential first step in the process of painting existing exterior surfaces. Power washing, also known as pressure washing, is the use of equipment to create a high-pressure stream of water in order to clean surfaces more thoroughly than traditional methods. Pressure washing has become an essential tool in many industries, especially the painting industry, because of how much dirt and grime exterior surfaces accumulate over the years. With options from how many gallons per minute, to the PSI (pounds per square inch) of the machine, to the type of nozzle tip: power washers have proven to be the most efficient way to clean exterior surfaces.

The Significance of a Clean Application Surface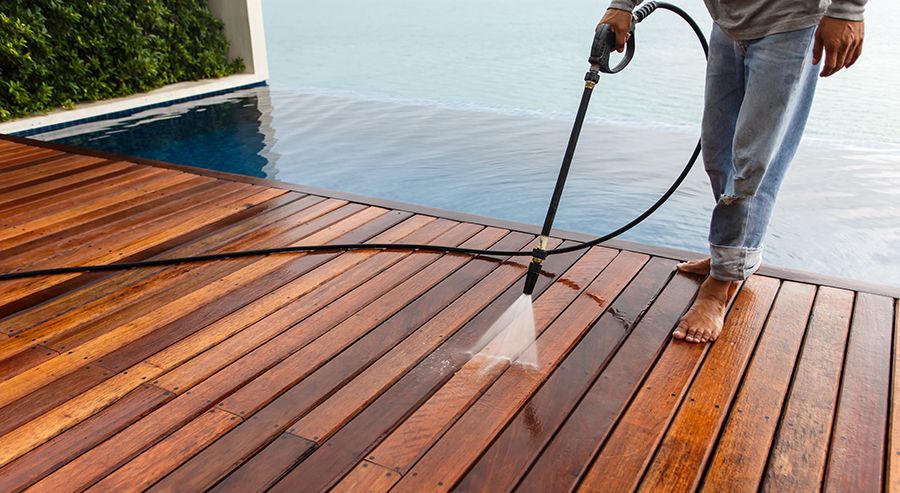 Although the power washer is significant in the cleaning process, many people still wonder, "Why is power washing so significant in the process of painting the exterior of my home or commercial property?" The answer to this question is simple: Without a clean application surface, your paint or coating will not properly adhere to the surface and you will not receive the best performance from your coating. Here is another way of looking at it: would you rather your paint stick to the exterior of your property for three years (that is if you're lucky) or ten?

Therefore, when you received bids on your exterior painting project, consult with the contractor on if the surfaces need to be power washed or not. If it does, be sure to communicate to all contractors that you would like this step to be included in their estimate. Essentially power washing is one of the most important yet, most neglected steps in the painting process.

Surface Preparation
Many contractors will do the bare minimum in surface preparation in order to keep their costs low and win the project. When it comes to choosing a contractor, remember; spend the extra money to have your surface prepped properly. Correct surface preparation will save you money in the long run due to the increased lifetime of the paint job.

What Type of Power Washer Do I Use?

Electric Model:
PSI: 1300 to 1900
Uses: Residential uses, car washing, cleaning small decks and patios, play sets, furniture[/one_third][one_third]Gas Model:
PSI: 2000 to 3100
Gallons per Minute: 2 to 2.5
Uses: Commercial and Residential Use, Vehicles, Boats, Siding, Patios, Concrete[/one_third][one_third]Gas Model:
PSI: 3200 to 4200
Gallons per Minute: 2.8 to 4
Uses: Commercial Use, Graffiti removal, Paint Stripping



For more information on power washing and our exterior painting services, please contact us.