2 minutes reading time
(327 words)
What Color Should I Paint My Bathroom?
The paint color used inside of a bathroom dictates tone and mood, two very important aspects of interior design. The problem with painting a bathroom is, however, some people have no idea what works and what doesn't. They have a plan in their head, but when it comes time to execute it, the results are less than favorable. Don't worry; we're here to help. In this post, we'll answer the burning question that many home decorators have about painting their bathroom: What color should I paint my bathroom?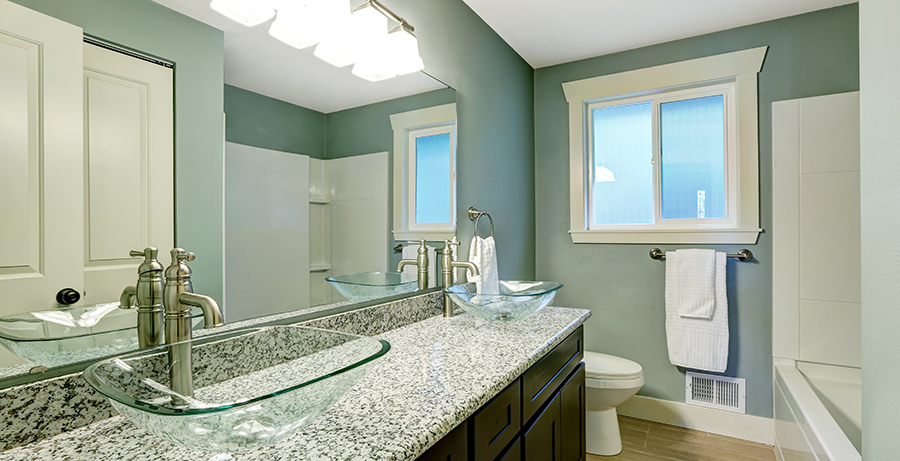 No paint color is "exactly" wrong. It's all about how you pair it with other colors, and how you decorate your bathroom. However, the color you choose should complement and evoke feeling, not downplay and seem dull.
Go bold with red paint. If you have never thought of painting a bathroom red, you should consider it. A red bathroom works best with a specific design motif, like the inside of a Victorian home. If you don't own a Victorian home, pair reds with a 19th-century style, flair, and design.
Try muted grays or beige tones to obtain a soothing and calming bathroom. Lighter colors can make a tiny room appear bigger, so if your bathroom is on the smaller side of design, these colors will do it a huge favor.
Subdued yellows or taupe will make your master bathroom feel elegant and regal. Use paints that elicit rich and warm feelings, and conjure up a soothing, relaxing sensation in your master bathroom for you and your spouse.
Go classic with black and white. Black and white bathrooms are a wonderful throwback to the 1940s and 1950s and are easy to decorate with once you have a base color established. For further inspiration, consult classic photographs, and make your bathroom the envy of all your guests.
If you are interested in learning more about creating your perfect bathroom, please contact us for additional information on how we can help you.