2 minutes reading time
(435 words)
Palette Picks: What Color Should I Paint My Nursery?
Among the many exciting parts of pregnancy and having a baby come a number of big decisions -- what name should I choose? How will I start the big conversations? What color should I paint my nursery?

It may not seem like one of the bigger questions, but for a parent, getting the decor of a nursery down can be a huge deal. There's a good chance you won't have time for another redecorating event for quite some time, so you want to be sure that you choose colors and themes that will grow with your child. You also are likely going to be spending a lot of time in the nursery -- between late nights and long mornings, you'll be looking at the paint as much as your bundle of joy will. It may seem trivial at first, but the colors you chose in your nursery really are some big decisions.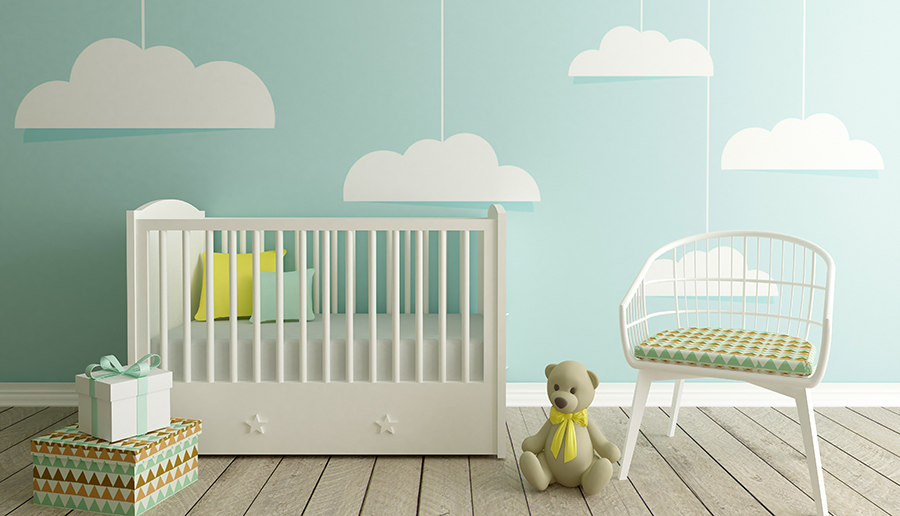 Be Bold with Navy

Whether you let navy take over the entire room and create a dramatic and cool look, or use it in a more subtle and accented way, navy makes a gorgeous addition to a nursery. Besides being beautifully gender neutral and working equally well for boys as girls, a navy room will grow with your child, taking them easily from infancy to toddlerhood, and into their teen years.

Be Classy with Pastels

People often like to bring soothing and comforting colors into a baby's room, and why not? We want our infants to feel relaxed and at home in their nurseries. A warm beige can easily be decorated to suit any household design while an elegant pink and grey nursery is perfect for a more lavish touch. Pastels also often work well together - look into combining several different colors with one another, like this mixture of grey, yellow, and blue to make a sweet nursery for any new baby.

Be Contemporary with Grey

Grey has become one of the hottest neutral colors to work with -- why? It goes with just about anything. You can create beautiful color schemes with bright pinks or dusty roses, with deep teals or sky blues. Grey is a crisp and clean way to make other colors pop -- and along with making your nursery a chic and elegant room, it will be an easy upgrade to work with once your little one begins to grow. Yellow and grey are popular colors to put together, but consider also pink, coral and blue, navy, or even a sharp white.

Looking for more inspiration? Contact us for more ways to bring your world to life with the magic of color!