2 minutes reading time
(434 words)
Suit Your Home's Style Appropriately with Color Schemes
Painting your house's exterior can change the look and feel of a home and even increase its value. To do this, you need to choose the proper paint colors for the style of your home. For instance, a historic Victorian house would look out of place with a bright, modern color scheme. For most homes, a fresh paint coat of neutral colors is usually a safe choice and will give your house a chic and trendy appearance. You can also add an occasional pop of color to specific areas, if desired, to catch a visitor's attention. Depending on your house style, preferences, and message you may want to broadcast about your home, consider these color schemes and coordination.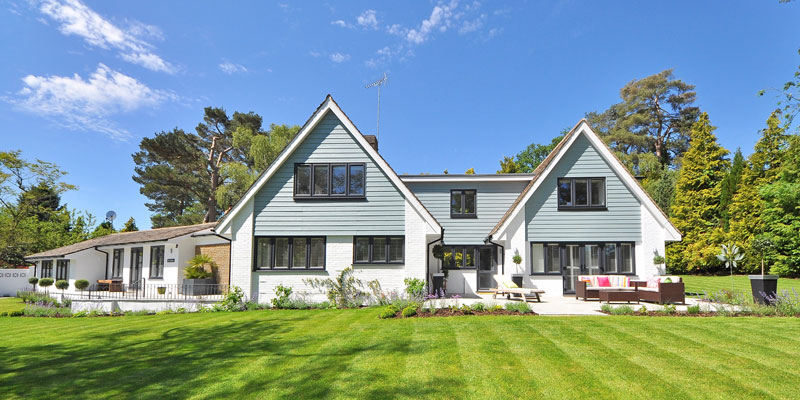 Traditional
For a home constructed in a style that's mostly traditional, a warm, beige paint on the exterior looks lovely and creates a fluid, homey environment that fits naturally with its surroundings. Use a bright white around the windows and for the trim. Also, use white for any railings that you have. Another fabulous choice for a traditional home is antique white. With this color, opt for a suede-like brown for the windows and trim to give your house additional dimension.
Transitional
If your home isn't traditional, but not modern either, you'll want to use colors that work for a style that falls in between. Consider white for a bright appearance with subtle colorful accents to help break up traditional coloring and help parts stand out. Use a medium gray around the windows and along the trim. If you want to use more color, try a blue or green instead of gray as an accent, which can also be used on external shutters. For a more subdued, yet stately look, try a medium gray for the exterior of your home, and match with a dark gray on window frames and trim. Use white for your front door and garage doors to break things up visually and bring attention to components.
Contemporary
For a home with a modern style, bold and elegant colors and aesthetics with more vibrancy accentuate your home for a fresh appearance. A soft gray paint can produce a sophisticated result, and combining it with black for windows and trim produces an abnormally impressive look. For a genuinely renewed appearance, opt for something like seafoam green on your home's exterior. You can match this with white paint on your window frames and trim to produce a dazzling, lively look. Boldness and distinction are key to modern contemporary homes.
For more information about exterior paint color schemes and residential painting options, please contact us today.