2 minutes reading time
(307 words)
Refresh Your Home's Interior with These 2021 Painting Trends
After the somber mood of most of 2020, how about choosing a refreshing start to 2021? Sometimes all that's needed for a fresh new feel is a change of color. Keep reading to check out a few paint colors and trends that are expected to rise in popularity in the new year.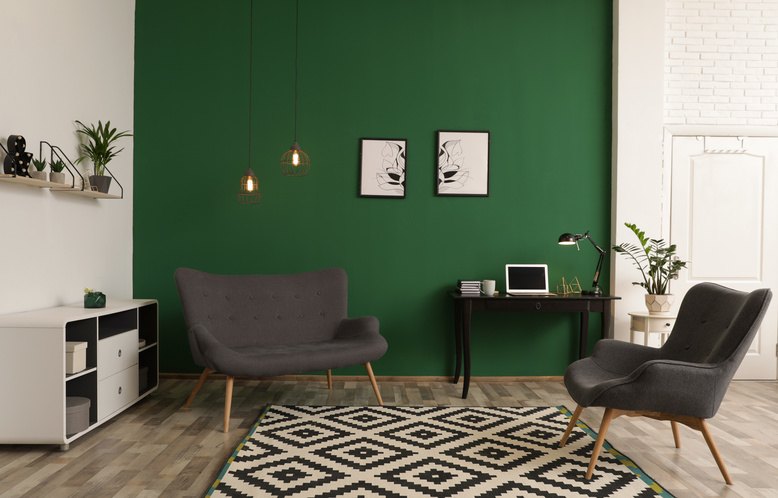 Paint Color Trends for 2021
According to the premier lifestyle and design magazine Veranda, bright, cheerful colors and soothing natural tones are expected to be 2021's hottest color trends. Vibrant and reinvigorating colors are sure to lift your spirits while soft, soothing colors of nature and gentle, inoffensive neutrals offer a sense of calmness and comfort.
Rich, saturated jewel tones like emerald, sapphire, amethyst, and ruby add a lavish pop of color to otherwise neutral rooms.
Many people are expected to gravitate toward warm, rich colors that evoke comfort and coziness. Think of rich chocolatey browns, natural mossy or sage greens, and deep, rich navy blues.
Clearer, brighter natural tones like vibrant forest greens, fresh ocean-inspired blues, and sunny yellows are also expected to be very popular.
Soft, buttery yellows nicely complement the new and popular bright pastel blue furniture pieces.
Soft, soothing, and nostalgic neutrals like warm whites, oatmeal, or taupe provide the perfect backdrop to richly-colored furniture and bright, cheerful artwork.
A warm brown with a reddish undertone, 2021's dusty rose is one of the muted tones that are so comforting. Expect these softer colors to add a touch of grace to home interiors.
Let Major Painting Refresh Your Mood for 2021
At Major Painting, our professional residential and commercial painters can imbue new life and a refreshing new color palette into your home or business for 2021. Whatever color trend entices and excites you, our experts can make it happen. To learn more about our residential interior painting services, contact us today!