2 minutes reading time
(394 words)
3 Popular Interior Painting Trends for Your Home Office
During these uncertain times with some still choosing to work from home, having a clean, well-designed home office is important to stay motivated. If your home office is starting to look outdated and bringing your work ethic down, it might be time for an update. Even just a new, fresh coat of paint can really change the space and help you to make it your own. Check out these three popular interior paint color trends to consider for your home office upgrade!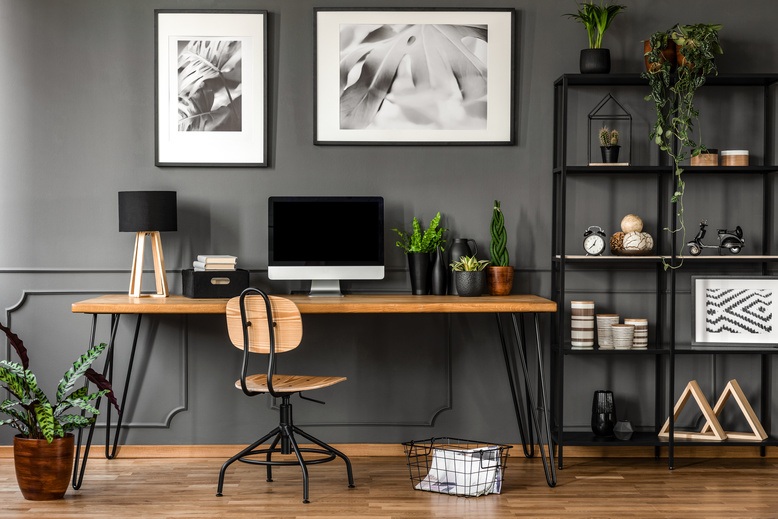 1. Warm Grey
One excellent color to consider for your home office is warm grey. This is a wonderful color for a home office because of its naturally calming quality. A warm grey office can help you to stay in a mindset that allows you to focus on your work and get things done. The warm grey color is also perfect because it makes the rest of your room incredibly easy to decorate. It is very easy to find other colors that match a neutral warm grey so you have a lot of great options to work with to create your desired look.
2. Dark Blue
Another great color choice for a home office is dark blue. This is a bold choice, but one that has a lot of benefits. The dark color can really set your office apart from the rest of your home and help to make your office a very sophisticated and personalized space. Also, the dark blue color is great for contrasting the bright screen of your computer. This can make it easy for you to focus on your computer screen and get your work done in a quick and efficient manner.
3. White
When it comes to your home office, it is hard to go wrong with the color white. White does an excellent job of brightening your office and turning it into a very professional, inviting space. The white color can also open up your home office and help to make it look larger than it actually is and is a great neutral color that goes well with anything!
Contact Major Painting
At Major Painting, our professional painters strive to provide you with the home office of your dreams. To learn more popular interior painting trends for your home office, or for more information regarding our residential interior painting services, don't hesitate to contact us today!