2 minutes reading time
(394 words)
Interior Home Painting to Set a Room's Personality
Have you been considering painting options for your home, but still struggling to figure out the best combination for each room? Below we will discuss popular color options and techniques. Choosing a paint color can be a stressful task, solidifying an aesthetic feel to a room. These options provide direction to choosing a color that matches the personality you'll want to set for a room. And remember, it's just paint; you can always change the color if it doesn't turn out accordingly.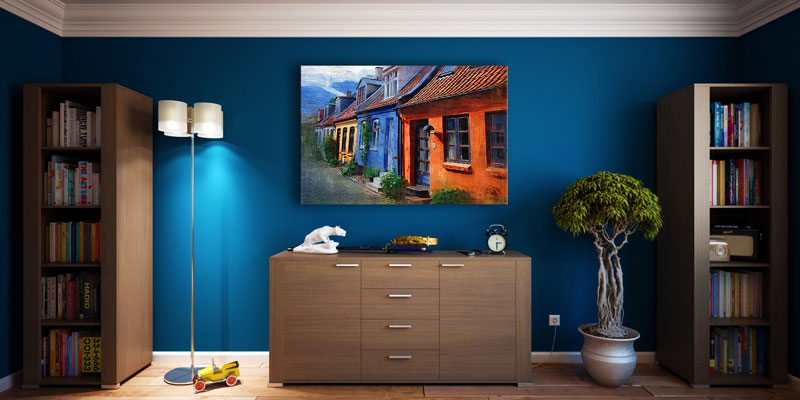 Choose a Light Color
You may find yourself drawn to some of the darker paint choices, such as a deep red or blue, but those colors can be too rich or shadowy for your walls. Darker colors will make the room dark, and often individuals grow tired of them quickly. Through our experiences, it is best to choose a lighter shade whenever possible. Lighter colors allow the natural light to better illuminate the room, as well as hide scuffs and scratches that may happen with normal wear and tear over time.
Paint the Walls a Neutral Color
Pick out neutral tones for every room in the house, and you will end up with a paint scheme that will be eye-pleasing, as well as comfortable and inviting. Choose rich tan and brown, bright white and pretty cream. These softer kinds of colors will add a touch of character and simple, homely beauty. As of recently, grays have become very popular and appealing to all individuals!
Paint One Wall a Brighter Color
If you love color and if you don't want your home filled completely with neutral choices, then consider painting one wall a bright, contrast statement color. We call this an "accent" wall or color. For example, pair a rose color with tan in a bedroom, or a deep burgundy with brown in your kitchen. By choosing one color to stand out and strategically showcasing it on one or two walls, you will show personality with the pop of vibrancy that won't be too overwhelming.
There are many things to think through when getting ready to paint your house. With some thought and direction, you will be able to find the correct colors to express the feel, look, and personality you're imagining! Contact us to learn more about various paint options and designs, as well as a strategic plan to complete your project in a timely and professional manner!