2 minutes reading time
(366 words)
Painting with Pantone's 2020 Color of the Year
Every year, Pantone announces a new color of the year. For 2020, Pantone's Color of the Year is Classic Blue, a deep, tried-and-true shade that lives up to its name. Although Pantone's color matching system helps designers select specific colors, the Color of the Year often sets the pop culture mood for the year, influencing fashion, décor, and paint selection. If you're thinking about repainting or re-designing your home or office, consider incorporating classic blue to stay on trend!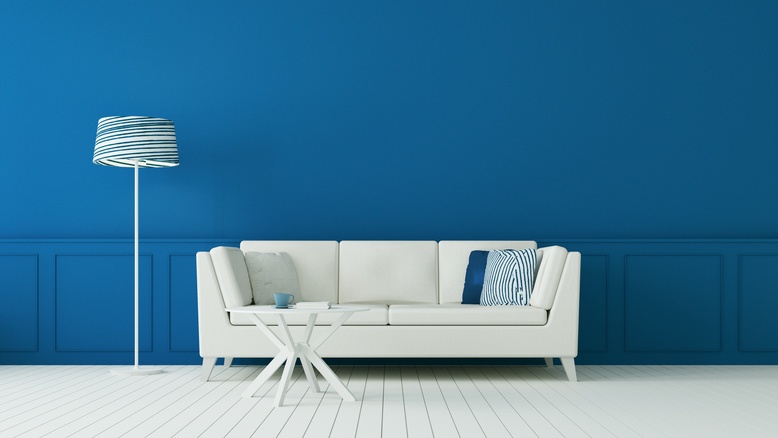 Classic Blue Paint for Residential Buildings
Interior
Since classic blue is a shade that looks like the sky before it turns black, you might consider this color in a bedroom. Blue is already known for being a restful shade, and with this color's deep tone, classic blue can feel ultra-dreamy.
Blue is often a popular bathroom color because we often associate water with blue. With a bathroom painted classic blue, you'd be sure to find plenty of matching bathroom accessories and towels.
Classic blue in the living room would lend a timeless, but not stuffy, atmosphere to your surroundings. This shade works with several decor styles, from traditional to modern to eclectic.
Exterior
On home exteriors, classic blue is an excellent shade for trim, especially on white or off-white houses. It's a color that can fit in with a variety of home architecture styles, and it's a welcoming color for you and your guests.
Classic Blue Paint for Commercial Buildings
Classic Blue is also a good choice for businesses, as deep blue shades convey a sense of trustworthiness without being boring, especially when paired with a warm color like tan or khaki. This would be an excellent color choice in your reception area or waiting room.
Offices painted in classic blue will foster productivity with this shade, creating an environment that can be serious without being stern, and pleasing to the eye without being distracting.
Choosing the right painters for your painting project is as important as selecting the right color. At Major Painting, our goal is to provide excellent craftsmanship and customer service for Lee's Summit and Kansas City area painting projects. To learn more about our services, or to request an estimate, contact us today!