2 minutes reading time
(355 words)
Get Inspired with These 2021 Interior Paint Color Trends
Last year, most of us spent more time in our homes than ever before, giving us plenty of time to look at our home's interior paint colors and get inspired for an upgrade.
With a new year comes a fresh start and changing visions. Check out these exciting interior paint color trends predicted to be hugely popular in 2021!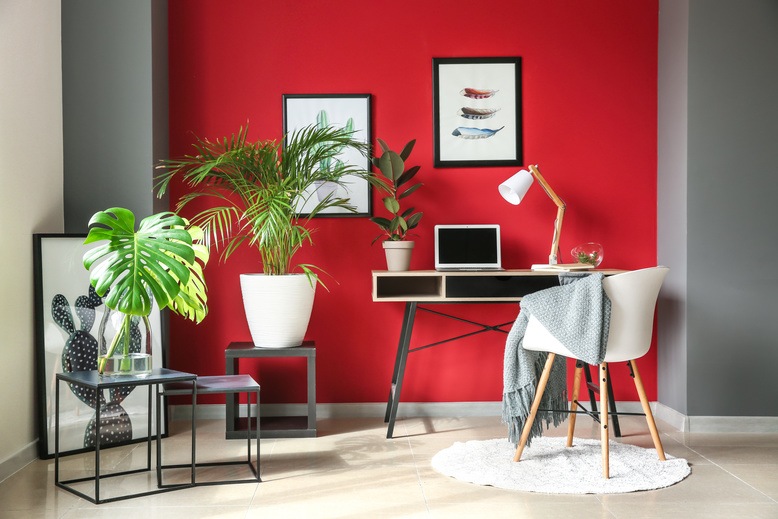 1. Dark, Warm Gray
This grounded shade of gray will create a comfortable and modern look in any room. This color works perfectly as the main wall or accent color, making it an extremely versatile neutral choice.
For example, use this color in a bedroom as an accent wall and use a chalky white as the primary room color to create a restful and contemporary environment. Decorate with natural wood finishes and pale pink decor to inject a bit of vintage luxury into your sleeping area.
In contrast, using this dark, neutral shade as the primary wall color doesn't mean you have to sacrifice a cozy feeling. Pair this color choice with white accent paint color and natural wood accents in the decor.
2. Rich, Bold Reds
Red shades are going to be hugely popular this year. Both bold, rich wine shades and warm, smoky paprika hues are popping up everywhere.
Using a red wine tone on half-wall wainscoting and pairing it with a chalky, pure white main wall and rich wood flooring creates a fantastic backdrop to an eclectic collection of personal objects and artwork.
Utilizing a smoky, burnt sienna hue and pairing it with natural wood and woven textiles will create a warm, comfortable Bohemian feeling.
3. Jewel-Toned Plum
A deep, saturated plum color on the walls will produce a beautiful and unique space. Give a contemporary feel to the room by pairing this color choice with warm wood and metallic finishes on decor and furniture, creating a luxe entertainment area in any sitting room.
At Major Painting, our professional house painters are ready to help you update your home's interior and achieve your dream home. For more interior painting tips, or to learn more about our residential interior painting services, contact us today!