2 minutes reading time
(340 words)
Four Things to be Aware of when Painting your Own Home
Many people believe painting to be an easy task that anyone can do. Their finished results however tell a different story. When painting, even the smallest details matter, which is why it is important not to take shortcuts. Here are some things to be aware of when painting your own home that will truly make a difference in the way your walls look.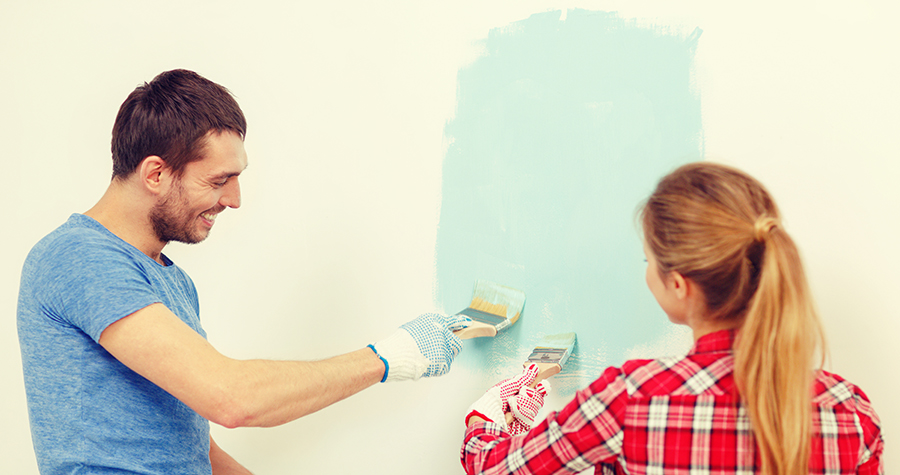 1. Clean surfaces first
This is a step that a lot of people skip, yet is extremely important. Paint cannot adhere properly to dirt, grime, or oil, which means that unless you clean your walls, they are likely to appear patchy.
2. Use canvas drop cloths
Plastic drop cloths can become bunched up underneath your feet, thereby leaving your floors unprotected. Canvas drop cloths are a better choice because they remain in placer. You also don't need to cover your entire floor-instead, simply move your canvas drop cloth with you as you go around the room.
3. Prime patched holes and cracks
When painting over patched holes or cracks, you may notice that the sheen is different once your paint dries. The way to avoid this problem is by priming over the area first, taking care to feather the edges. Allow to dry and then sand lightly before adding your first coat of paint.
4. Cut tape before peeling it away
Once the paint is dry, a common tendency is to pull off tape in a single swipe. This is not recommended, as it could result in you tearing dried pieces of paint along with your tape. Cut tape loose instead, using a sharp razor knife, then pull slowly and evenly so the paint stays on your wall.
These are just a few basic things to consider when painting. There are actually quite a few more we don't have time to list here that are equally as important. You don't have to keep up with all of them, when you can allow our team of professionals to do that for you. To find out more, contact us.