2 minutes reading time
(373 words)
Finding the Perfect Interior Office Color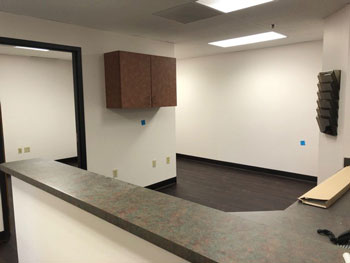 Updating the interior of your office building can be one of the most worthwhile investments you can make. In terms of productivity in an office environment, the color of your walls can make a surprising difference. Promote a positive, healthy work environment, and boost productivity by selecting from these popular office colors.
Creative Colors
For a creative office, you need an inspirational mix of colors that spark the imagination and promote innovative solutions. Look for green and brown colors that accent each other and offer a balance of calming, inspiring, and positive feelings. Create more effectively and promote higher levels of trust and communication in your creative workspace.
Relaxing Alternatives
For a more laid-back office environment, consider purple, blue, or silver color tones. Not only do these promote calm feelings, but they also have a reassuring appeal that's perfect for medical offices or other professional locations. Communicate a sense of professionalism and engender trust from your customers.
White and Neutral Tones
Combine white and other neutral colors for a modern, minimalist office environment. Architects, designers, and other high-end creatives will love this toned-down look and blank space. These tones also project professionalism and modern flair to your clients.
Vibrant Reds and Yellows
A passionate, powerful option is a mixture of red, orange, and yellow colors. These invigorating colors are perfect for a fast-paced work environment. They boost heart rates and encourage your employees to go the extra mile in a kitchen, restaurant, or other work area.
Get a Professional Opinion
Choosing colors can be a major decision. The interior color of your office or other workspace can play a pivotal role in customer retention and productivity. For some professional assistance and more information about your color options, contact Major Painting today. As your leading painting expert in Kansas City, we can offer you a professional color palette that fits your office goals. Call 816-203-0466 or send us an This email address is being protected from spambots. You need JavaScript enabled to view it. today!