2 minutes reading time
(413 words)
Basics of Spray Painting
The idea of using a paintbrush to paint your entire home or building may seem overwhelming. Consistent brushstroke after brushstroke is required for a solid, uniform coat, taking a lot of time, meticulous detail, and risks of arm strain to get the exact look you want.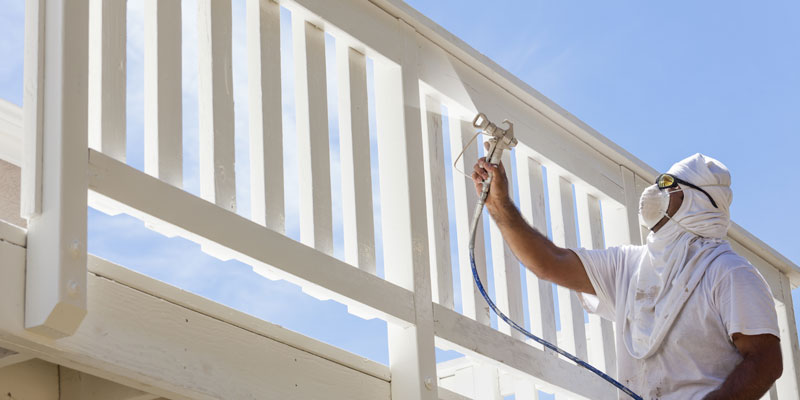 Luckily, spray painting has turned this laborious task into something simpler and less time-consuming. After centuries of refinements, canned spray paint was perfected in 1949, and modern spray painting has evolved to become a superior method of painting, distributing paint more evenly than with brushstrokes or rollers. There are two types of spray painters on the market: airless sprayers that are air-based and HVLP (High-Volume, Low-Pressure) sprayers.
Airless sprayers use a combination of a paint container, hose, and gun to spray paint over a surface. The paint in the container filters through the hose and out the spray tip. Though they're bulky and rather expensive, airless guns are fast and designed for covering large surface areas, indoors and out.
HVLPs, on the other hand, are a smaller, easily portable spray gun that sends air through a nozzle, shooting the paint out in a continuous current, but in a very light and fine way. They are preferable for smaller projects like interior trim and cabinets when you're looking for a finer finish.
Each type of sprayer can be an asset when painting; however, each has its drawbacks too. Unlike using paintbrushes, you don't always have the most manual control over the paint job. There's also a lot of preparation work involved, as you need to make sure you've set down sufficient drop cloths to cover your furniture and other possessions. Costs can ramp up too, since HVLPs need many cans of paint to do an effective job.
If you do decide to use the more common airless spray painter, remember these steps when applying paint to a site:
Maintain long, level strokes at a decent pace. This ensures even coverage.
Keep the gun at a distance of 10-12 inches from the surface and perpendicular to it.
Overlap each pass you make with the sprayer to prevent light coverage.
Adjust as necessary to create the paint quantity and level of stream you desire.
Spray painting is an effective way to achieve a beautiful-looking home without excessive effort. For your next paint job, consider a spray painter. Don't have the time? Contact us to let Major Painting Company handle the hard work for you. Our trained experts will paint your home or business at an affordable cost. We (literally) have you covered!