2 minutes reading time
(374 words)
6 Ways to Refresh Your Kitchen
Are you craving a new look for your kitchen, but don't have the energy, budget, or patience needed for a complete remodel? Don't worry! There are several ways to give your kitchen a refreshing new look that do not involve steep budgets or demolition crews. Sometimes, all it takes is a little paint or added detail to achieve the kitchen of your dreams!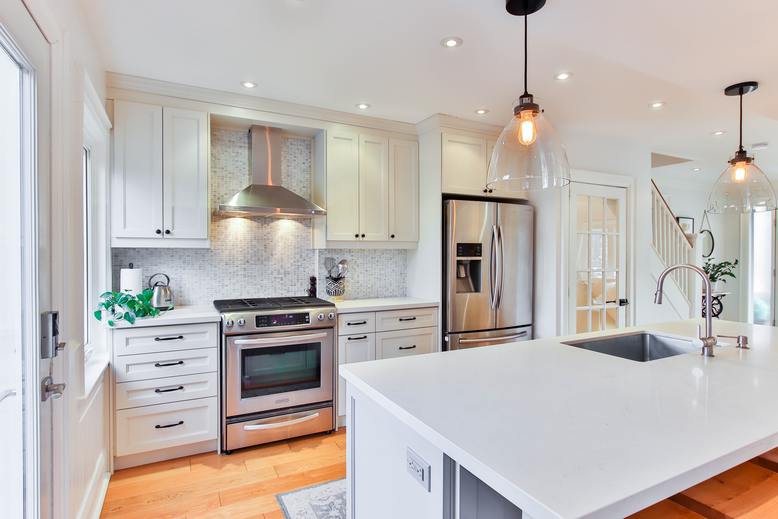 How to Refresh Your Kitchen
Check out these quick and affordable ways to give your kitchen a fresh new look.
1. Add New Lighting
Even if you don't feel comfortable replacing lighting fixtures yourself, try adding under cabinet lights that just plug in. They can make a remarkable difference in how well you can see to work at your kitchen counters.
2. Change Out Your Cabinet Hardware
You'll be surprised at how different those old cabinets look when they are adorned with new hardware. All you need to change cabinet hinges, pulls, and knobs are a screwdriver, measuring tape, and pencil!
3. Add Roll-Out Shelves
Adding roll-out shelves to your kitchen cabinets can help to improve the organization and functionality of your kitchen.
4. Update Your Backsplash
With the proper prep work and the right choice of paint, painting a tile backsplash can make your kitchen look brand new!
5. Paint Those Old Cabinets
Old, outdated cabinets can make your whole kitchen look uninviting. As long as your cabinets are still in reasonably good shape, why not spruce them up with a fresh coat of paint? Painting your cabinets is guaranteed to make a huge change in the look and feel of your kitchen!
6. Paint Your Kitchen Walls
Sometimes, all a kitchen needs is a new paint color. If you still love the old color, try adding a pop of color on just one wall for an instant upgrade.
Contact Our Residential Painters
At Major Painting, our residential interior painters have the experience, tools, and skills needed to make short work of your kitchen upgrade! Whether you just want a fresh coat of paint for your cabinets or a whole new look for your kitchen walls, our residential interior painters can help. For more kitchen design tips, or to learn more about our residential interior painting services, contact us today!