2 minutes reading time
(463 words)
Refresh Your Old Tile with a New Coat of Paint
Styles become outdated and materials wear out, but old tile doesn't need to keep dragging your space down. Use a coat of paint to quickly refresh aged tile design.
Painting offers a practical way to reinvigorate older finishes. Removing tile can be time-consuming, messy, and frustrating. Instead, use a few coats of paint to liven the accents in your kitchen area with a new color, or sync up your bathroom borders after a new renovation, while only taking your room out of commission for a few hours.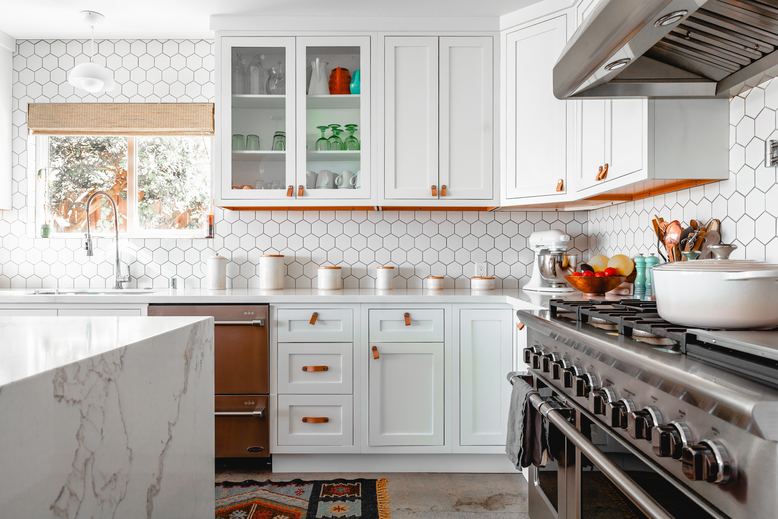 Proper Preparation is Important
Though the process is straight-forward, you will still want to proceed with care. Be mindful of areas that are exposed to a lot water. Spots that receive frequent exposure to moisture, like a sink backsplash or shower, can cause the paint to peel and blister. Constant traffic, like on a bathroom floor or break-room countertop, can wear the color right off. Choosing a less-than-ideal location can set you right back at step one, but with proper tools and preparation, you can leave your tired space looking new.
Tools for the Job
You'll need a few simple supplies to tackle this project:
Prep Materials. Sandpaper and an electric sander, a scrub brush, and vacuum will get your area ready.
Painting Supplies. A paintbrush and roller will make the job move quickly and allow you to reach the grout in between your tile.
Paint Types. A primer that is made for hard, glossy surfaces to make sure your paint adheres to the tile. And of course, your desired color of latex or epoxy paint to finish the job.
Prepping Your Area
Clean your surface with a standard tile cleaner before you begin. Then sand down the surface to remove the glossy finish and give the tile abrasions for a better connection with the primer. This will also get rid of any leftover grime. Clean up any mess with the vacuum and wipe down the tile. Mend any missing grout, and repair or replace tiles where needed. Make sure your prep work has completely dried before you paint. A misstep here could compromise your primer and the longevity of the paint.
Painting the Tiles
Beginning with the primer, use your brush on the grout to ensure full coverage between the tiles. A roller will do the trick for the broad surface of the tiles themselves. Once the tiles are coated, and the primer is dry, follow with your paint. The same trade between brush and roller will have your area covered and looking great in no time. Make sure to carefully follow the instructions specific to your paint to ensure the best results.
For more tips on starting your next painting project, or to hire a professional to help rejuvenate your home, contact us today!