Welcome back to the second half of our two-part article on all the most important reasons to repaint the interior of your business. Last time, we talked about refreshing the look and feel of your business as a beautifully done new coat of paint makes your business look like it has been freshly rebuilt from the ground up. We also talked about the importance of choosing the current color-scheme to suit your business, rather than some generic color or colors chosen for some business who came before. With a chance to repaint, it's time to take the opportunity and customize your workplace to match the culture, attitude, and style of your company. Let's pick up where we left off at impressing customers with bold décor decisions and a whole new look.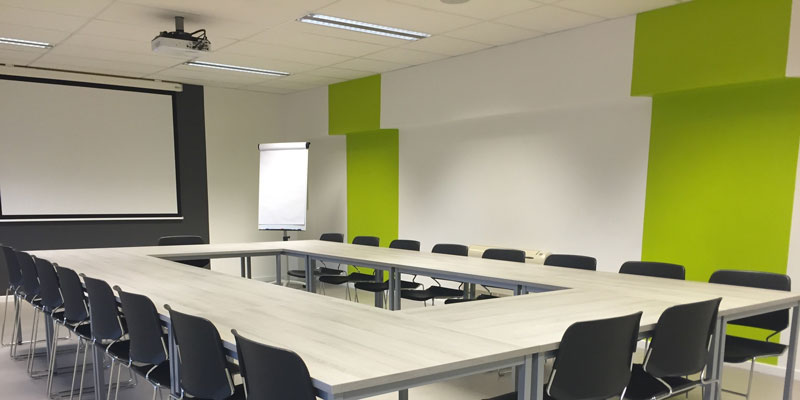 3) Impressing Your Customers by Making a Splash
Customers like to be impressed. Many love the feeling of walking into a familiar place, only to gasp at and enjoy a new, beautiful design. A change of wall color can have an incredible impact on your customers, especially if your interior design is dynamic with accent walls and distinct trim. By repainting your office in a way that enhances your appearance of success, quality, and style, you can quite enjoyably impress both new and returning customers with your savvy décor, following up with your excellent service.
4) Improve Employee Morale with a Stylish Workplace
Of course, the customers aren't the only people you can please with a fresh coat of paint. Many people, often from a very young age, dream of working somewhere stylish and attractively decorated. You feel professional, walking through beautiful scenes of office space. Employees will feel both rewarded and proud to work for your company and more enthusiastic about showing friends, family, and new customers around your beautifully repainted space.
5) Build Your Brand in Brick-and-Mortar
Finally, this is your chance to define your brand in more than just service and digital assets. All that branding work you've done for marketing and digital campaigns can now be turned to the brick-and-mortar world as well. You have a real office and every reason to extend your brand to the space you work in every day. Choose wall colors and a decoration theme that aligns with and enhances your brand. You might be surprised how much more "in the spirit of things" your employees and customers both get when your venue is like a themed park, a behind-the-scenes location for your brand.
While these aren't the only benefits to repainting your office interior, they are some of the best. For more information about what colors, styles, or approach to use in your workplace, contact us today!