2 minutes reading time
(447 words)
5 Reasons to Repaint Your Business Interior – Part 1
Even in the mobile and digital age of business, office decor is still emphasized in any brick-and-mortar business location. Whether you're in a towering office building or in your own little shop, employees and customers pay attention to the look and feel of your workplace, judging businesses on what they see. But before you start ordering expensive light fixtures and pieces of art, take a real look around your office. There may not be anything wrong with your interior design, but rather a glaring (and glaringly white and bland), affordable transformation your office could use that would help immensely.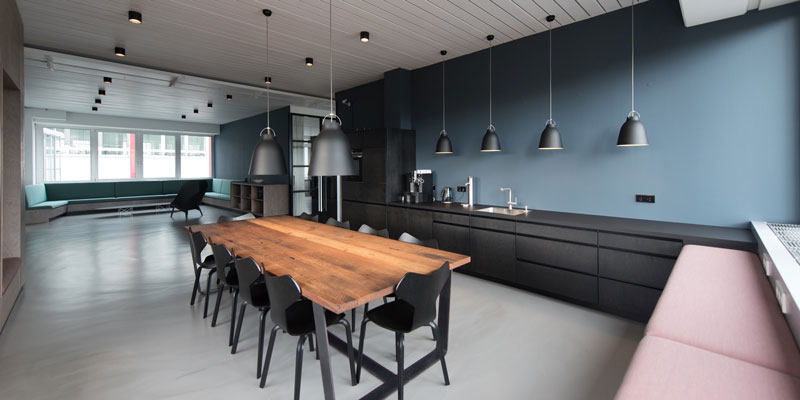 Paint isn't like artwork, light fixtures, or ergonomic desks. The aesthetic appeal of the result relies more on strategic color choice and the skill of the painter than on how much you spent. A touch of paint can work wonders on an environment, for your customers, and even for your employees if done stylishly by professionals. There are many reasons you may want to repaint your business:
1) Remove Signs of Old Wear-and-Tear
The first and perhaps one of the most important changes a fresh coat of paint can do to your office is to remove all those minute signs of age and wear. Unfortunately, older paint jobs gradually chip, flake, and discolor, even if not clearly visible. Even possibly, previously-done, unprofessional drips in corners need to be repainted. These little signs may not be immediately evident to clients, customers, and employees, but it can very subtly lower the apparent success of your business by looking shabby in the background.
A fresh coat of paint done professionally erases all that and returns a gleam and sense of quality to your offices, workplace, and venue. The fresh repaint can cover old signs of deterioration and can add an accented touch of professional style to your interior design.
2) Old Colors Aren't Your Colors
The next thing to consider is who chose your existing paint colors. Whether it's off-white or some pastel variation of beige, blue, green, or yellow, the colors weren't chosen for you nor your business. The colors may have been chosen by the last business to serve their purposes or by some property manager or agent looking for tenants to occupy the space. They aren't your colors, and they don't benefit you. Why not take a hand in your own venue by choosing new colors that suit your business, company culture, and clientele?
Join us next time for the second half of this two-part article for more reasons to repaint your business interior. For more tips, tricks, trends, and professional advice about commercial painting services, or to start your next repaint and redecoration project, contact us today!