2 minutes reading time
(403 words)
5 Popular Office Design Trends of 2022
The events of the last two years have inspired many companies to rethink their office design and with the start of a new year, new trends within office design are becoming increasingly popular. With 2022 comes a greater focus on safety and comfort, as well as a continued emphasis on sustainability. Keep reading to discover these five office design trends that will be the highlight of 2022.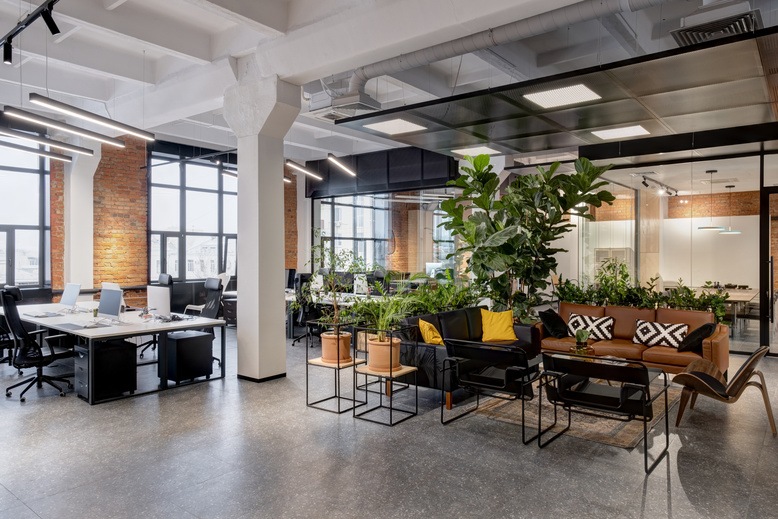 1. Flexible Working Space
Over the last several years, more and more companies have embraced an open office design layout. Now more than ever, open layouts combined with smaller, private work areas are essential. Many employees want flexible work spaces, as well private areas where they can work safely. By implementing unassigned work stations, casual areas, formal conference rooms, etc., you'll likely see an increase in efficiency and productivity.
2. Transformable Offices
As more people have started and continue to work remotely, transformable office spaces have become increasingly important. Your office needs to be able to easily adapt to a hybrid workforce in order to allow employees to come and go easily. If you're looking for a cost-effective office design solution, a transformable office is an excellent choice.
3. Emphasis on Noise Reduction
As open, flexible, and transformable work spaces become more popular, so too does an emphasis on noise reduction. Installing carpeting, rugs, furnishings, and even plants can help control the noise level in open, flexible office spaces, allowing employees to concentrate easily and stay comfortable and productive.
4. The Comfort of 'Home' at Work
Due to pandemic, many people have become accustomed to working from home. In order to help employees feel safe and relaxed as if they were at home, comfort should be a top priority for your office in 2022. To help bring the comfort of home to your office, try furnishing your office with comfortable seating options, indoor plants, curtains, artwork, and warm lighting.
5. Sustainability
With more people continuing to be increasingly environmentally-conscious, sustainability will continue to be a priority within office design. To maintain a sustainable work environment, opt for a design that allows for more natural lighting, use LED lighting, and add plants and greenery throughout.
Upgrade Your Office This Year with Our Office Remodel Experts
At Major Painting, our office remodel professionals can help you achieve a functional, new office design for 2022. To learn more about our office remodel service and capabilities, contact our team today!