3 minutes reading time
(633 words)
4 Considerations Before Painting Your Grocery Store
Trying to figure out if it would be a smart decision to paint the exterior or interior of your grocery store? It can be a tough decision to make, especially if your business operates out of a large location. Not only do you have to think about blocking off specific areas of your store during regular hours, but also painting costs could add up to cover all that square footage.
However, repainting your grocery store could present a slew of opportunities for your business. It could actually be a rewarding return on investment. Before you dive in, consider these four questions of your business and building.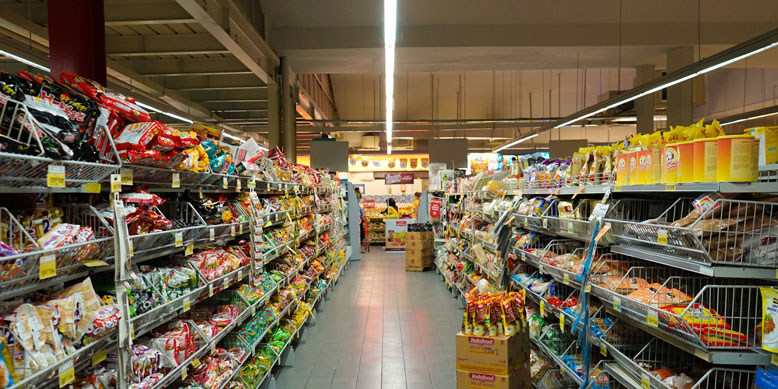 Are the colors outdated?
If your grocery store hasn't been painted in years, chances are the color scheme is old. Trends change very quickly. Even though you might still like the way the interior or exterior of your grocery store looks after all these years, it's possible that you're just used to it.
Request a quote from a professional painting company to get an expert's opinion. If you both agree that it's time for an upgrade, they will help you create the perfect color palette for your store. By selecting a unique color combination and quality paint types, your walls will no longer be an eyesore to customers.
Is the paint chipped, scratched, or dirty?
Don't you want customers to make a positive association between your grocery store and the quality of products you sell? Even if you sell the best items on planet at your market, if the walls are unkempt and dingy, people may be turned off. Food should be stored and sold in a clean, sanitized environment. Even if you strive to do so, you may still give off a sour impression with poorly painted walls. Customers will notice a grimy appearance when it's right in front of their eyes.
That's why paint jobs and repaints are so important! Your floors could be clean enough to eat from and your shelves may not have even a speck of dust, but if your walls are filthy, everything else might as well be too. If this is the case for you, make sure you get started on planning your grocery store painting project with a team of professionals.
How does your building compare to your competitors?
Grocery stores have come a long way in the past few years. Not only are most of them a lot bigger, but they also have self-checkout lines, savings cards, and all kinds of technology integrated into the shopping experience. If you're trying to grow your store, painting might be one of the last things on your mind.
However, look at your competitors' stores and see how their appearance is holding up. Has the interior been painted recently? Does their exterior catch the eye? Make sure your store appears as prominent as theirs, since consumers prefer to shop at those that appear to be industry leaders.
What have your sales been like?
It would be wise to evaluate how your sales have been over the last few years. Of course, there are other factors at play, such as a competitor that has disrupted the industry, shifting trends in consumer behavior, or your efforts to continue growing.
However, though the appearance of your store may easily be overlooked as something that barely impacts your bottom line, it still may be contributing to a stagnant sales performance. Some say to "dress for success" and "look good, play good." The same idea applies to business. Therefore, ensure the appearance of your store mirrors the quality of service customers can expect from you.
Ready to get started on your grocery store painting project? Contact us today to request a quote or for further information on our commercial exterior and interior painting services!