2 minutes reading time
(422 words)
The Importance of Drywall Repair for Office Buildings
Drywall damage not only can cause problems with the structural integrity of your building, it can also cause your office to look old, dingy, and unorganized. In order to keep your office looking its best, drywall repair is essential.
Drywall issues range from holes, cracks, and dents to popped nails and bubbled joint tape. With help from a professional, you can fix these issues to ensure your office serves an excellent first impression.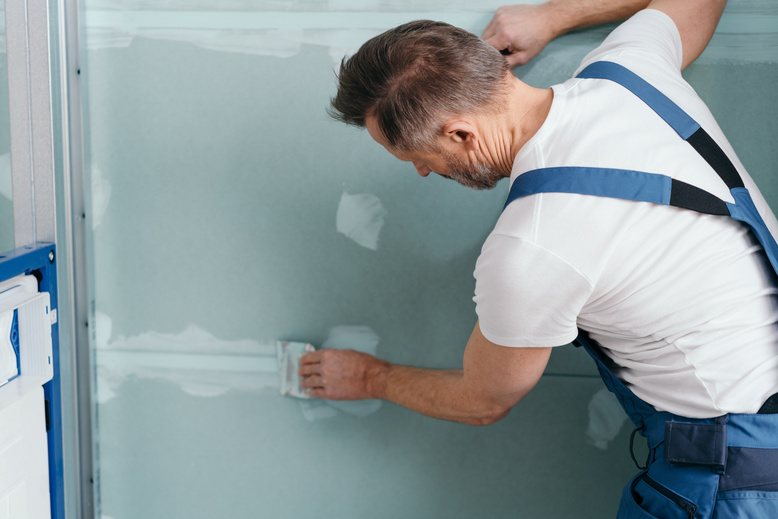 Causes of Damaged Drywall in Office Buildings
A few common causes of damage drywall in office buildings include:
Malfunctioning Plumbing. Malfunctioning plumbing can damage your drywall when it becomes old or is poorly installed. You can tell it is the culprit if you spot bulging in your drywall. A damp odor will start emanating from the faulty place.
Constant Furniture Movement. Constant furniture movement against the walls will also affect your drywall. It can lead to the peeling of wallpaper, cracks, wall discoloration, or sagging walls.
Weather Elements. Weather elements can also cause drywall problems. When there is heavy wind, hailstones, earthquakes, or continuous rain, your drywall could potentially develop issues.
What Hazards Can Occur Due to Damaged Drywall?
Damaged drywall not only looks bad, it can also lead to a few hazards.
Different health issues could arise from damaged drywall that may affect your workers, clients, and others who have access to your building. A musty smell and toxic molds could irritate the lungs and adversely affect those with allergies.
Structural weakening of drywall may lead to the caving in of walls.
Holes or crack in drywall can lead to wire exposure. Wire exposure is a severe threat, which becomes worse if water is involved. Any electrical wiring exposed to water or moisture can lead to a fire hazard.
Why Drywall Repair is Necessary for Office Buildings
When it comes to your office building, it's important to maintain a clean, organized, professional, and welcoming appearance to keep your employees motivated and clients impressed and willing to do business. Drywall repair ensures proper paint adhesion and helps enhance the durability of your office walls, ensuring your office continues to serve this excellent first impression.
Contact Major Painting
Damaged drywall can drastically decrease your office building's aesthetics and stability, which can harm your business and compromise people's safety. Therefore, it is crucial to address arising issues promptly for an organized and safe workplace.
If your office building is in need of expert drywall repair, or if you're interested in learning more about our commercial interior painting services, contact us today!