3 minutes reading time
(520 words)
Spectrum Paint Colors for Your Next Spring Home Project
As spring projects begin to line up, colors for fashion and home décor are at the forefront of homeowners' minds when considering new paint jobs. Trendy, fashionable colors include some classics and some brilliant surprises. Consider some of the following colors and combinations when you select paint for your next interior or exterior home painting project.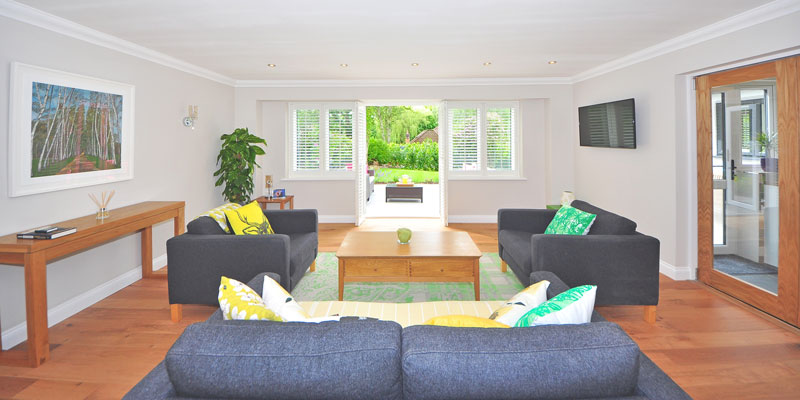 Interior
Pastel Colors
Pastels have been popular and pleasant for many. They aren't only used for softer rooms, like a baby's room. Instead, any room that needs some color can don hues of faded versions of colors. Instead of peach, think of blush. Instead of sky blue, think of pale duck egg, or almost-white hues of aqua or seafoam. Pastels bring a subtle pop of color without being too flashy.
White and Black
White and black coloring offer great contrast and accenting opportunities. In the recent past, rooms had seen heavy use of black paint, but styles are changing to white rooms, with thin accents of black. This offers a unique aesthetic, like an ink drawing or a black passementerie embroidery detail on a white coat. White dominates the palette but is modernized with ebony accents. A white and black palette lends itself to pairing with virtually any saturated color and can provide an amazing backdrop for yearly themes and decorations.
Violet, Purple, and Pink
Violet, purple, and pink colors in various shades offer a feel of fresh elegancy. The colors may be muted or vivid and can be used heavily in decor and fashion. Red-violet (violet) and blue-violet (purple) can make a space majestic. Pink looks fresh too. Look for a shade with a hint of blue and brown – a mauve, or a very pale shade of lightest pink.
Exterior
Bold choices for exteriors or exterior trims seek to present a sense of trust and confidence. Inspirations of rich, reddish shades like mahogany and chili instill boldness like the red rocks and canyons of Nevada, New Mexico, and more. On the other hand, cool shades including jade green, Prussian blue, and ultramarine are other options offer tranquility and serenity.
Subtle, soft, neutral shades include white with hinted tints of blue, green, or lavender provide harmony. Other choices include khaki shades, especially sandy tones, pale greenish-grays, and blue-grays.
Also, consider matching or contrasting with anything you see in your home's natural landscape. For instance, if your home is surrounded by brush, dirt, or sand, paint and match your home in a deeper, darker shade found in the surroundings, or paint with a green or blue shade to contrast. If you live somewhere with snow on the ground for months at a time, perhaps choose a cheerful butter shade, or an unexpected aqua, lime green, or carnation pink.
Choosing a perfect shade for your home's interior or exterior can be difficult, but this will give guidance on the aesthetic and appeal you wish to present. Also, finally choosing and implementing the paint job can be a tall order, but our professional painters are always ready to help. Contact us to learn more and to collaboratively further explore the design, color, and finish options for your next home project.