2 minutes reading time
(440 words)
Painting vs. Staining Your Deck
Just like the structure of your home, your wooden deck can also be subject to wood rot and moisture damage if not properly protected. To keep your deck protected and looking its best, adding a stain or coat of paint is essential. For help deciding whether painting or staining is the better option for your deck, check out our list of painting and staining benefits.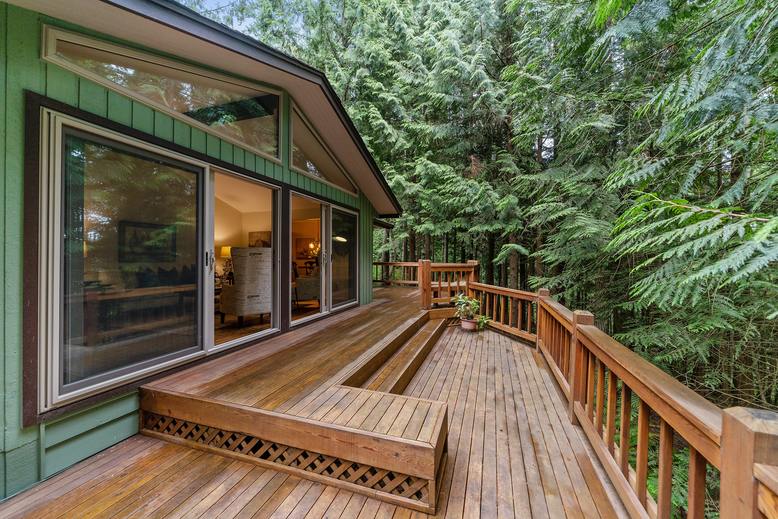 Pros of Staining
A few general benefits of using stain to protect your deck include the following:
Offers a More Natural Look
If you stain your deck, you'll allow the natural beauty of the wood to show, including the variety and texture of the grain. In essence, staining allows for light protection of the wood without a complete coverup of the surface.
Budget-Friendly
When it comes to protecting your deck, staining your deck is often a less expensive option as a gallon of stain typically costs less that a gallon of paint. Additionally, most wood stains contain preservatives, eliminating the need to apply a primer beforehand.
Easier to Apply
If you are looking for a quick, easy way to spruce up the appearance of your deck, stain is an excellent choice. Most standard wood stains have a thin, watery consistency which helps to minimize drip and stroke marks. This, and the fact that primer is often not necessary, makes for a fairly easy and quick application.
Pros of Painting
Now that you know about the benefits of staining, it's important to know that there are a few other benefits that are unique to painting.
Offers More Variety
Unlike stain, paint comes in numerous different colors and sheens, offering you a wide variety of options for your deck. Whether you are looking for a darker, more subtle color or an attention-grabbing hue, painting your deck is an excellent way to express your style.
Easier to Maintain
Though stain is easier to apply, paint makes it easier to maintain the cleanliness of your deck. Unlike stain, paint typically dries to a slicker surface, making it much easier to clean and sweep away dirt, leaves, and other debris.
Lasts Longer
Due to its durability and higher viscosity, paint does a better job at filling any cracks in the wood, providing your deck with longer-lasting protection. Though the initial cost of stain is cheaper, paint is often the more cost-effective solution for protecting your deck.
Contact Major Painting
If you want help staining or painting your deck or other wooden structure, our residential exterior painters at Major Painting are ready and available. To learn more about our residential exterior painting services, or for a free estimate, contact us today!