2 minutes reading time
(394 words)
Paint with Stencils to Liven Up a Room
Picking the right look for your home helps if you know all the options available. If you are looking at home magazines and aren't too thrilled with walls of solid color, you will be glad to know that you aren't stuck with blank spaces. You can use stencils smartly to create dynamic patterns to bring vigor to a room. Having a pattern on a wall can provide an exciting accent to any room, and it allows you creative freedom to match your patterned furniture or other décor. Painting with stencils lets you pick a theme for a room, personalize it, and let your inner artist truly express what the world needs to know about your room.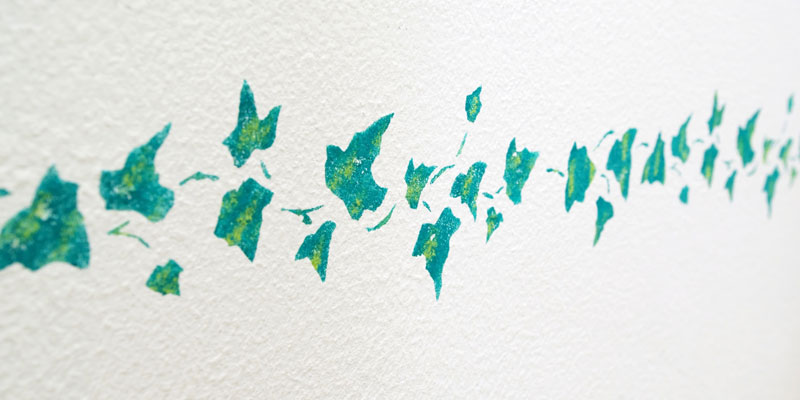 Stencils are easy to find; they are in most home improvement stores, so you can buy them when you get the paint. Start with picking a pattern and the colors involved. When you get to the hardware store, pick out stencils, the base paint, painter's tape, spray glue, foam rollers, mini roller frame, and the paint that you will be using to make the pattern. Then follow these steps:
Clean and prepare your wall. Make sure that furniture and fixtures are covered, and painter's tape has properly masked sections before you paint.
Paint the base coat and let dry.
Apply the stencil. Spray glue on the back of the stencil before you put it on, and cover the edges with painter's tape. This will both keep the stencil in place and help you paint a clean, uniform pattern. Dip a mini foam roller in the stencil paint color, and wipe off the excess. Then paint over the stencil with the roller, using even strokes.
When the second coat of paint is dry to the touch, take off the stencil, and reapply it, lining up and creating a repeating pattern.
Paint over the stencil in the new spot, the same way that you did before. Repeat steps 3 and 4 until you cover the wall, letting the coats dry thoroughly between each application.
Painting with stencils require a lot of patience, but it can turn a bland room exciting! Imagine jungle vines creeping up your sunroom walls, lattices enhancing your bedrooms, and flowers in your bathroom. For more ideas in making your house a home that truly inspires you or for help to make your pattern painting shine, contact us today.