2 minutes reading time
(383 words)
How to Avoid a Messy Paint Job
Painting your walls sounds easy: just choose a paint color, get a brush or roller, and start slathering it on; however, it's not that simple. If you don't understand how to use your tools effectively nor know the proper techniques, you can end up with a disaster. It could look bad, or worse, you could even damage surfaces. Here's how to avoid a messy paint job and get it done right the first time.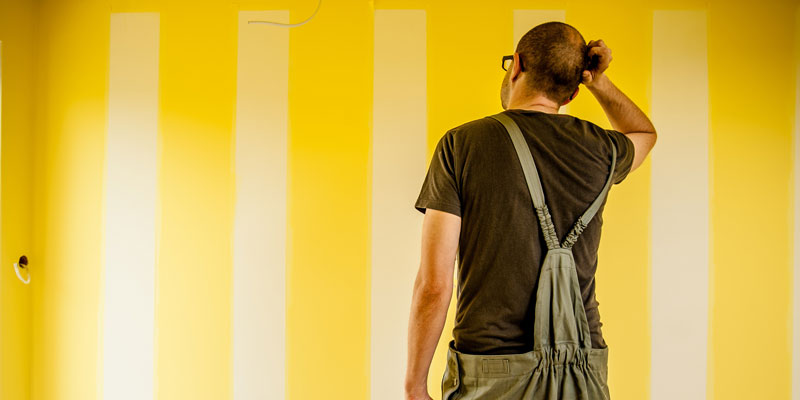 One thing you don't want to see on walls or trim is brush strokes. There are a couple of ways this can happen: by using low quality brushes or by painting over existing brush strokes.
To remove existing brush strokes, use a sander with fine-grit sandpaper, sand and smooth out the brush strokes, then vacuum all the dust away. You may have to repeat this process. Run your hand over the surface to be sure all the stroke marks are gone.
When painting walls with a paintbrush, start with a high quality wide brush. Use a natural bristle brush for oil-based paints, and synthetic brushes for latex paints. Low quality brushes can't hold as much paint and bristles can come out in the painting process.
Dip the brush 1 ½ to 2 inches into the paint to load the brush with as much paint as it can take. Then tap it against the edges of the can to knock off the excess; this helps to prevent dripping. Nothing says "messy job" like dried paint drips on walls, doors, or trim! Paint from the top down, keeping the brush moving consistently also helps to prevent drips. You can use a roller instead of a brush, but make sure the roller cover is of high quality, or you may leave nap fibers behind on the wall.
On the trim, use a narrower brush, and scrape off the excess paint on the edge of the can rather than tapping, so there won't be too much on the outer bristles. The trim is smaller and requires a little more attention, so be wary when applying your color to the trim.
For a professional paint job in the Lee's Summit and Kansas City areas that you can be sure is neat and free of problems for your home or commercial building, contact us today.