2 minutes reading time
(459 words)
Changes to Pressure-Treated Lumber Add Extra Step to Staining
If you have a deck, chances are it's made from pressure-treated lumber. If your deck was recently built, you should know that federal changes to pressure-treated lumber now requires an extra step in time when staining to return a pleasing deck. Avoiding this step will result in splotchy, uneven results. Before you stain, understand the changes done and how they affect your next project.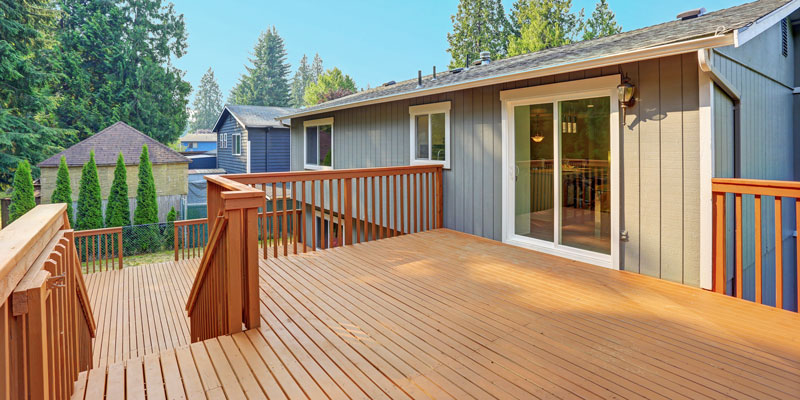 Changes in Compounds
From 1975 to 2003, pressure-treated lumber was treated with a compound known as Chromated Copper Arsenate (CCA), a preservative with fungicidal and pesticide properties. Lumber was dipped into CCA and then exposed to high amounts of pressure that force the preservative deep into the wood, hence the term "pressure-treated lumber."
In 2004, the United States Environmental Protection Agency (USEPA) banned CCA-treated lumber use for residential purposes. This is part of an overall initiative to reduce the amount of arsenic exposure in the environment, due in no small part to the fact that arsenic is a known human carcinogen. CCA-treated lumber is still approved for industrial purposes and permanent wooden structures.
Since 2004, pressure-treated lumber has been treated with one of three alternative compounds: Copper Azole (CA), Micronized Copper Azole (MCA), or Alkaline Copper Quaternary (ACQ). With these new treatments, it is crucial to adjust one simple key factor in how the lumber is used in your wood projects' timeline.
Changes in Your Lumber Use Process
CA, MCA, and ACQ are water-based compounds, so the lumber absorbs a large amount of water during the pressure treatment process. As a result, the lumber is still extremely wet when you buy and start using it. Although you can still build with the lumber before it dries, it is absolutely essential to let the lumber dry before staining it.
Letting the lumber dry takes time, and this needs to be anticipated in your project timeline. The amount of time depends on where you live. If you live in arid New Mexico, for example, it might take around six weeks for the lumber to de-moisturize, whereas it could take six months if you live in New Orleans. Allow plenty of time for a deck to weather, exposing it to the elements and letting the lumber dry, which is much longer than traditionally-treated wood.
If you aren't sure whether your lumber is completely dry, try the bead test. Put several drops of water onto the lumber. If the water beads up, the lumber is still wet, but if the lumber absorbs the water, it is dry and ready for staining.
If you would rather leave the staining to professionals, you can call on Major Painting Company to help! Contact us for more information on our efficient, quality work for you next deck staining or other painting project.