2 minutes reading time
(394 words)
Ceiling Painting Tips for Your Home or Business
When painting the interior of your home or business, it's easy to overlook the ceiling when picking out your preferred color(s) and just paint it/keep it white. However, your ceilings can be an important part of your room's aesthetic and simply slapping on a coat of white paint can be a missed opportunity to make a positive impression. To achieve your desired look, first decide if you want to fool the eye into believing the room is smaller and cozier or if you want to give the impression of a larger space.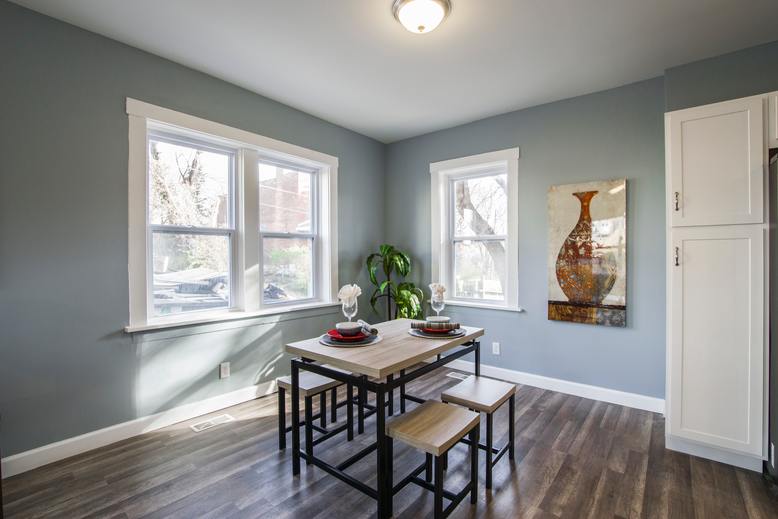 Ceiling Paint for Larger Rooms
If your home or office has large rooms with high ceilings, your flooring and furnishings might take up less than half of the room. The remaining space can feel bare, cold, and off-balance; not exactly a welcoming feeling for your guests or customers.
To create a smaller and cozier sense of space, use the same shade of colorful paint on the walls and ceilings or use a darker color. Medium to dark rich, deep colors such as chocolate brown and jewel tones on the ceiling can make the room feel cozy instead of impersonal. Ideally, the hue would be two to three shades darker than the wall color. The trim should stand out by being white or a light color to accentuate an enclosed feeling.
Ceiling Paint for Smaller Rooms
If you have smaller rooms that feel cramped, you might want to achieve a more inviting sense of a larger room. To make rooms appear larger, consider using lighter shades. For example, pale yellow walls and an off-white ceiling will make the room lighter and feel larger and airier.
To keep it simple, the following colors make a room appear larger: soft tones of off-white, blue and green. Brighter colors will make the room feel more spacious and inviting.
The ceiling is an ideal palette to showcase the personality of your home or business. You can have the ceiling painted all one color or use geometric shapes and accents to make the room uniquely your own.
At Major Painting Company, our painting professionals have experience in commercial and residential painting. Our professionals can offer guidance on colors and design to help you achieve the ambiance you desire for your home or place of business.
For more information about our residential or commercial painting services, contact us today!