2 minutes reading time
(335 words)
6 Signs of a Bad Drywall Installation
Properly installed and painted drywall can help your rooms look like they belong in an interior design magazine. However, when drywall is not installed properly, rooms will look cheap and shoddy. Unfortunately, there are so many finishing methods that it can be hard to know what the finished product should look like.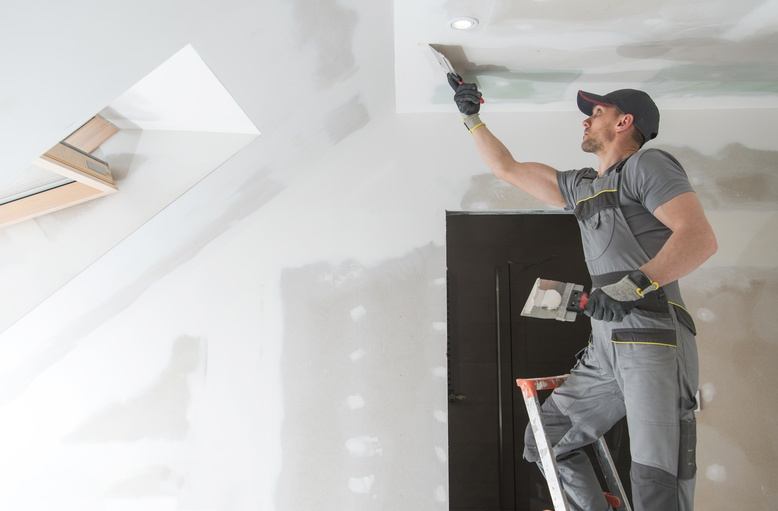 Signs Your Drywall was Not Properly Installed
Certain imperfections are expected at lower levels of finish, but there are several flaws which are never acceptable in a quality installation job. These include:
Visible joints
Visible nail and screw holes
Uneven corners
Rough surfaces
Crooked panels
Sagging ceilings
How to Repair Bad Drywall
Step 1. Gather the Tools
Your drywall repair toolkit should consist of an inside-corner knife, utility knife, flexible knives in widths of 3, 6 and 8 inches, a hammer, a screwdriver, a drywall saw and a drill. Depending on the type of damage, you may also need a level, nail bar, hacksaw and hand sander.
Step 2. Gather the Materials
The materials necessary to repair a bad drywall installation job include drywall nails, screws, mesh tape, paper tape and drywall compound. For small repairs, there's no need to use maximum strength mesh tape with setting-type drywall compound. Paper tape works well for all types of repairs.
Step 3: Repair Damage
Cover doorknob holes and other damage with a peel-and-stick patch made of a fiberglass mesh covering an aluminum screen. Peel off the backing and press it into place. Then, use a 6-inch drywall knife to apply three covering coats of drywall compound over the mesh.
Contact Major Painting Today
While small holes and patches can be easily fixed in no time at all, more severe drywall damage can be time consuming and difficult to repair. Consider letting professionals repair your bad drywall so you can spend your time doing what you enjoy.
At Major Painting, our expert professionals can install new drywall, repair existing drywall, and repaint your walls quickly and efficiently. To learn more about our services, contact us today.