2 minutes reading time
(399 words)
6 Painting Techniques for a Unique Interior
Whether you are hoping to add a unique style to your home interior, or create an eye-grabbing, welcoming environment for your business, there are a myriad of painting techniques you can implement to achieve your goal. Check out these six painting techniques for a unique interior.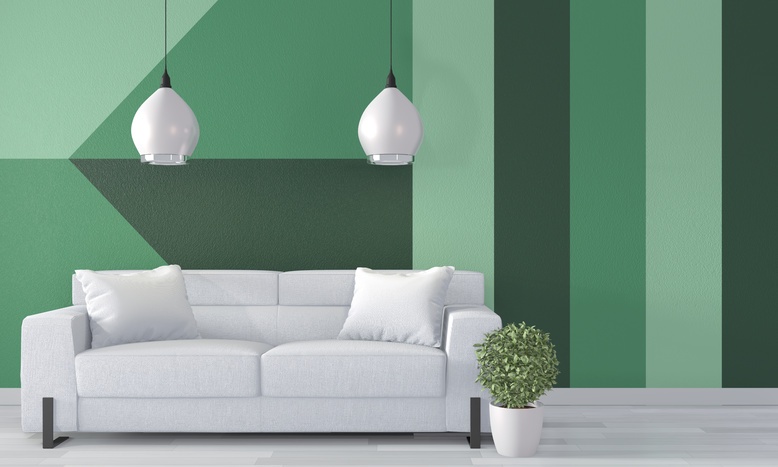 1. Stencils
Wall stenciling is an excellent and simple way to create a unique space. It involves applying stencils to your walls and then painting over the stencils to create impressive designs. Stencils are a great way to create complex paint designs without spending the extra time and effort.
2. Harlequin
The classic harlequin interior painting technique is best for contemporary room design. By using a mix of contrasting colors such as white and blue or white and green, you can achieve a sophisticated, bold look that adds movement to your space with this painting technique.
3. Metallics
Implementing the use of metallic paint in your interior space is a great way to make a bold, eye-catching statement. There are several ways to implement metallic paint for a long-lasting interior design and unforgettable impression. You can paint the entire room in metallic colors for a bolder look, use metallic paint for an accent wall to draw the eye, or apply metallic accents for more depth.
4. Stripes
If you are looking to update your interior with a fresh, timeless look, stripes are a fantastic pattern to incorporate. Painting thin stripes in similar colors can add texture to a plain room. Thick stripes in contrasting colors can add flair and make for a great accent wall.
5. Polka Dots
Polka dots can be applied to your walls in a variety of ways to achieve different design appeals. You can concentrate the dots in clusters for a minimal design or distribute them evenly on the wall for a more balanced look.
6. Rag Rolling
To spruce up your interior without disrupting the overall design, try rag rolling. Rag rolling is a painting technique that involves rolling a rag on wet paint. This technique is a simple, great way to add subtle depth and texture to your space.
Contact Our Expert Interior Painters
At Major Painting, our interior painting professionals are here to help you attain your desired look. With our commercial and residential interior painting services, we can help you achieve astounding interior designs. To learn more about our interior painting services, contact us today!