2 minutes reading time
(344 words)
4 Surfaces to Paint with Latex Paint
Latex paint has become one of the most popular options for interior painting. With fewer VOCs, faster drying time, and several other benefits, latex paint is a great tool to help you create beautiful finishes in an easy and efficient manner. Whether you're crafting your first DIY wall decoration, touching up trim, or painting masonry surfaces, latex paint is an excellent choice. Keep reading to discover when you should use latex paint for your painting projects!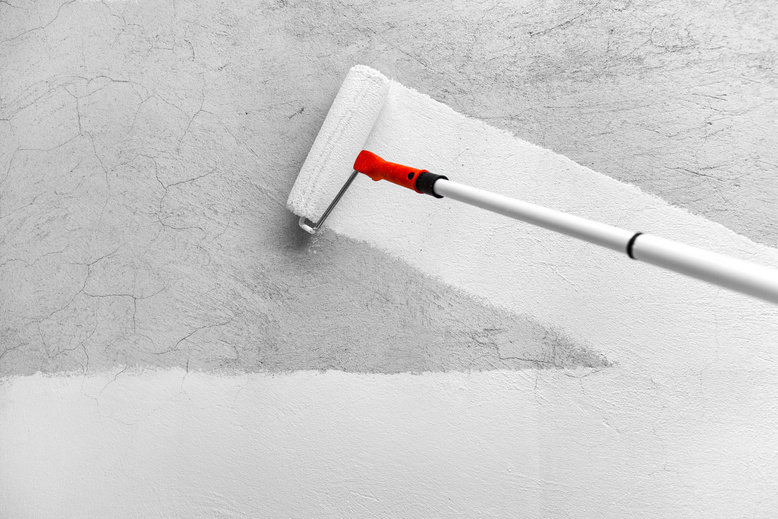 1. On Drywall/Interior Walls
When painting your home or building's interior walls, latex paint is a great choice. Due to its fast drying time and cleanability, latex paint will allow you accomplish your interior painting project quickly and easily. In addition, latex paint has fewer volatile organic compounds (VOCs), making it a safer choice for interior projects.
2. Use on Stucco
Stucco walls can make painting a challenge. The key to achieving good paint coverage on stucco is to use quality exterior latex paint designed for masonry surfaces. Latex paint will help prevent mold growth and hide minor imperfections in the stucco, ensuring your stucco exterior looks great for years to come.
3. Use on Concrete
Latex paint is especially great on concrete surfaces. Like stucco, concrete can be painted with special latex masonry paint. Latex paint creates a smooth finish that resists chipping, cracking, and scuffing and will also protect the concrete from moisture intrusion.
4. On Aluminum Siding
Latex paint is 100 percent acrylic and water-based, making it an excellent choice to use on exterior aluminum siding. Due to its elasticity, latex paint will not crack, fade, or chalk as easily as oil-based paints and will keep your siding looking its best.
Contact Our Professional Painters
A fresh coat of latex paint can transform your interior or exterior. At Major Painting, our skilled commercial and residential painters are here to help you achieve a quality, lasting paint job for both your interior and exterior surfaces. For more tips on using latex paint, or to learn more about our commercial and residential painting services, contact us today!