2 minutes reading time
(355 words)
4 Reasons to Repaint Your Warehouse
A lot of warehouses are constructed with raw materials, and they tend to stay that way. If you have employees working in your warehouse on a regular basis, you want them to enjoy their workspace. Giving the warehouse a new coat of paint is just one way to improve the area you and your employees work in. The following are four reasons to give it a go.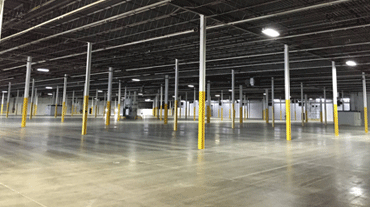 Motivation
Did you know there are certain colors you can surround your warehouse with that will promote motivation and hard work? Red, for example, is a stimulating color. It raises your pulse as it gets your heart pumping. Yellow energizes and is the color of optimism and mental clarity. If your warehouse is a stressful environment, certain blues and greens are calming.
Safety
You can promote safety in the warehouse with fresh paint. Colors can be placed in strategic areas so the employees and managers know what happens where. These colors can organize the space, as well as increase production. You can paint arrows and directions to improve the flow of production. Reflective paint is another safety feature, as well as non-slip flooring paint.
Maintenance
Keeping your warehouse well-maintained could be easier when it is freshly painted. Painted walls are easier to clean, and if something is broken down or worn out, you'll notice it more quickly when you've got some fresh colors on the wall. If your warehouse has already been painted, chemicals and equipment can make it wear out. Painting it again should be part of your regular maintenance plan.
Compliance
Most warehouses are going to be inspected at one point or another, and depending on the industry, possibly multiple times in one year. Chipped or damaged walls and paint will not look good and you could get fined. Keeping the walls freshly painted is one way to stay in compliance with certain codes and regulations.
As you can see, there are some important reasons to repaint your warehouse. To find out more, contact Major Painting today by calling 816-795-9049 or This email address is being protected from spambots. You need JavaScript enabled to view it.!