2 minutes reading time
(324 words)
Prep Work for Outdoor House Painting Projects - Getting it Right
Exterior house painting projects offer a unique set of challenges, which can differ in many aspects from the prep work normally required for an indoor painting project. Follow these handy cleaning and prep tips designed to make your outdoor painting project as seamless as possible.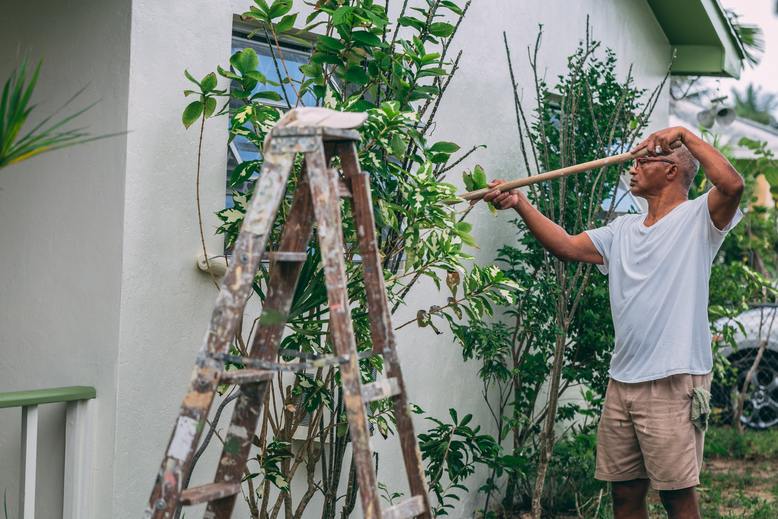 Cleaning Comes First
Prior to beginning your exterior paint job, cleaning all the exterior surfaces you plan to paint is a must. Unlike interior rooms, exterior surfaces always pick up dirt or debris over time. Trying to cut corners by skipping the cleaning process before an exterior paint job can result in an uneven paint job and tainted painting tools.
In some cases, a simple rinse with a hose or sprayer is enough to do the trick and remove any necessary grime. In other cases, the use of a power washer is needed to completely clean surfaces.
Prep Surrounding Surfaces and Grounds
Needless to say, painting outdoors often means dealing with the elements while you're painting. A windy day can mean more frequent drips and sprays. Before painting, take a good look at everything around the exterior of your home and remove or cover anything that you don't want to come in contact with paint. Some of these objects might include house numbers, light fixtures, any decorative gardening pieces, a flag pole, flower urns, etc.
Painting exterior surfaces also has the challenge of working in and around outdoor gardening elements such as bushes, flowers, and perhaps even small trees. Homeowners should trim back any excess foliage that will make it difficult to access areas that need painting. If there are any leaves or other organic material that can easily become airborne, then it's always a good idea to remove it from the premises before painting.
Painting is hard work and can take up much of your time. For more information or to hire a professional painter in the Kansas City area to make your life easier, contact us today!