November 15th, 2016 marked history for Major Painting, Progressive Materials, and Kansas City, Missouri. This day marked the first completed Silicone Roof Coating Restoration System, manufactured by Progressive Materials, to be installed in Kansas City.
Roof Coating Restoration or RCR is a fluid applied roofing system that can be installed over virtually any existing flat roof that does not contain excessive damage. The silicone system, in which was applied in this case, offers many benefits to the owner compared to installing traditional roofing systems. Some of the major benefits of the silicone system is, it's seamless, cost-effective, and eco-friendly. It's important to understand not all roofs are candidates for this type of system, therefore it is necessary to consult with a professional.
Project Spot Light: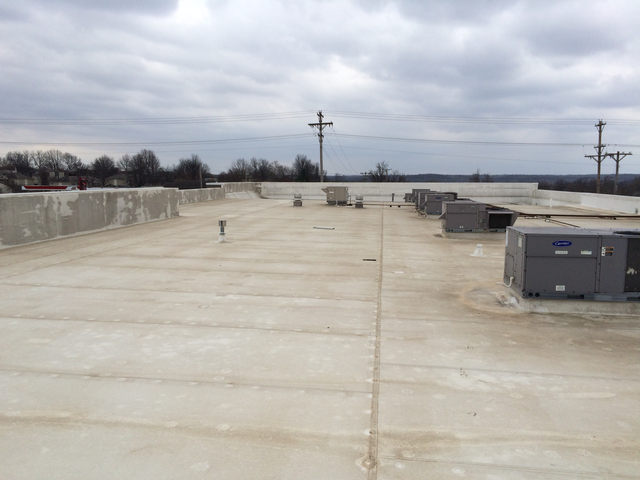 Where: Independence, Missouri
Type of Building: 1 Story Retail Center
Problem: The old TPO roof was experiencing minor leaks that could not be pin pointed and patched by roofing contractor. Roof warranty was 2-3 years out of warranty and needed to be brought back under a warranty.
Roof Assessment: Roof was in satisfactory condition. The TPO substrate was dirty, but still fully adhered and there was minor seam damage.
Solution: Install Progressive Materials Silicone Roof Coating, HS-3200, at 25 mills to the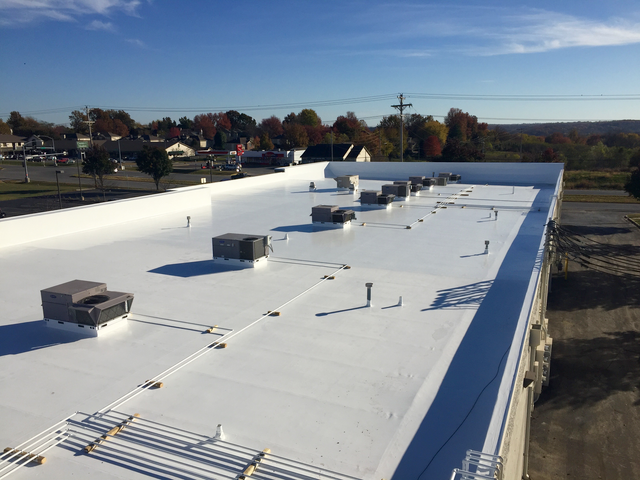 roof and parapet walls with a 10-year warranty.
Process: Set up Fall-Protection System, Powerwash TPO removing all dirt and debris, Tape and coat any seams failures, Prime and paint all gas pipes, Spray the roof, and install new wood blocks under gas pipes.
Conclusion: The owner of the building will most likely experience lower energy cost due to the added reflectivity, a 10 year warranty, seamless roof, and happier tenants all at the fraction of the cost to remove and install a new roof.