Overland Park Commercial Painting, Joint Caulking, and Office Remodel Services
Commercial Painting in Overland Park, KS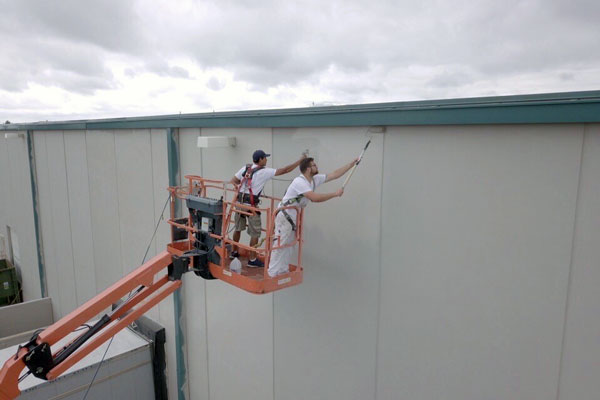 At Major Painting, we offer exceptional commercial painting services to our customers in Overland Park, KS. Through this painting service, we can help business owners create an inviting space for their customers, while protecting their real estate. Feel free to learn more about our commercial painting services below or contact our professional painters today.
Commercial Painting
Our professional painters can help completely transform your commercial building. We have helped business owners, property managers, and facility managers create a space that is effectively and efficiently painted to meet each businesses' needs. Whether you require interior painting services or exterior painting services, we provide the painting services you need in Overland Park, KS.
Interior and Exterior Commercial Painting
Our commercial interior painters focus on getting the job done quickly and professionally. We understand that the interior painting process can impact normal business operations. As a result, we do our best to be as efficient as possible, including flexible scheduling and safety precautions at the job site.
Commercial exterior painting services can be used for a new commercial building or a much-needed repaint. For our repaint customers, depending on how weathered your commercial building is, we suggest a repaint every eight to twelve years. Major Painting highly suggests commercial exterior painting to keep your commercial building appealing to customers and to increase the protection of the building's exterior against weather and natural wear and tear. If you are interested in our commercial painting services, please contact us today.
Commercial Joint Caulking in Overland Park, KS
Commercial joint caulking ensures that expansion joints, holes and gaps are properly filled within your commercial building, which helps to eliminate weather damage from occurring inside your commercial building. In addition to protecting your building from weather damage, commercial joint caulking is also beneficial as insulation and allows the building to expand and contract naturally without damaging itself. If you are located in Overland Park, KS, and are interested in our commercial joint caulking, please contact us today.
Office Remodel Service in Overland Park, KS
Our office remodel service in Overland Park, KS, helps to provide outstanding remodeling to those that need it. If you have an office space, commercial building, flex warehouse, or tenant space that needs remodeling, please do not hesitate to contact our commercial carpentry contractors. Through our office remodel service, we provide various capabilities of demolition, wall erection, commercial painting, mechanical work, flooring, ceiling work, and more. If you are interested in our office remodel service and would like to create a more usable and eye-appealing office space or commercial building, please contact our commercial carpentry contractors for a free consultation.
Commercial Painting and Carpentry Contractors in Overland Park, KS
If you need professional painting contractors in Overland Park, KS, give us a call for a free estimate. With over 30 years of experience, our painting contractors efficiently and effectively execute each commercial painting project.
Additionally, each of our professional painting contractors also has their safety certifications to ensure commercial painting operations run smoothly and safely. Our safety procedures keep our painters, carpenters, and the job site as safe as possible, which ultimately results in a phenomenal exterior painting project. Contact our painting contractors if you want to utilize our expert commercial painting or office remodel services in Overland Park, KS.